The Swim Edit: 3 Looks Under $30
Hey babes!
It's the most wonderful time of the year! Can you feel it?? The sun is shining, the birds are singing, are we're crisping in God's Easy Bake Oven. Which also means that it's time to start wearing less and going out more.
Childhood me is so happy with how far swimwear for fat bodies has come. I remember always hating the thought of going shopping for bathing suits because I knew I would end up stuck with an uninspired one piece from the Nana section. Well, one pieces have reclaimed their time, and now they're trendy. Go figure.
So let's dive in! Peep three of my favorite swim looks for this summer under $30! Everything is linked:)
Look #1:
So this first suit is actually from Walmart *gasp*. I know. I actually hate this place, for reasons unrelated to this blog, but I was on vacation a while back and needed some swimwear and found this cutie! I paired it with a duster from Torrid that I got last year and repurposed as a coverup. I also love these sunnies as they add to the retro look I was going for. Full disclosure, the tie around my neck is actually a headband that my big ass head stretched out; but it's a lovely pop of color and as Tim Gunn says, "make it work"!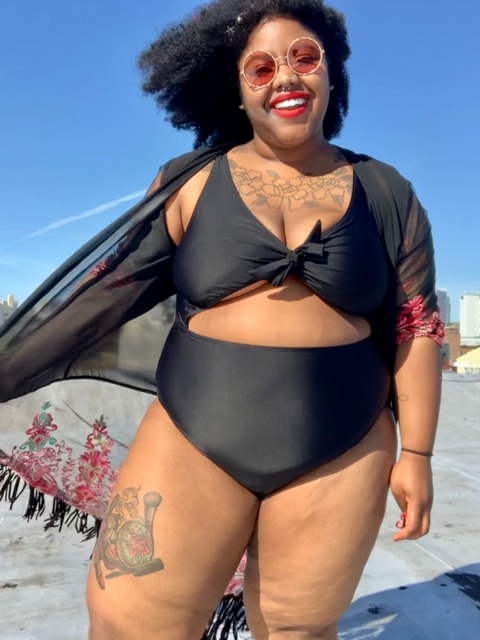 Look #2:
I adore this second suit because of the playful cutout in the front, and y'all know I loves me a bow. It also gives a little underboob if you're into that type of thing, which I am...obvi. I paired this again with one of my favorite dusters from Boohoo. The velvet fringe on the bottom is everything and makes me feel extra breezy when it's, ya know...breezy. Also gold accents like this pearl crown which I can't stop wearing and these sunnies pull it all together for me.
It was hard to narrow down, but honestly, this may be my favorite look out of the three. I loved this suit for many reasons, but the red colorblocking and the bow really sold me. A bold splash of color can really liven up the whole look! I paired this with a long line kimono and bigger gold sunnies, haha. Also the hair tie is a silk scarf that I thrifted!
Honorable mention is this red lipstick that has me going back to my roots when I was a MAC girl, haha. It is so good and I love that the formula isn't sticky but also doesn't make you have to damn near saw your lips off when it's time to remove it.

xx,
-L